Ch. Lebeck Nomad at Marchwind
Black/White Male
AKC# TR30856101
Ch Marchwind Lebeck Blue Mountain x Lebeck Tina Louise
Small, Dark, and Handsome,
A Lot of dog in a Little package!
Ch Lebeck Nomad at Marchwind, has come to About Time! I was enchanted when I saw his photos, but the moment he stepped outside his crate on arrival, I knew this little man's wandering days were over - contrary to his name, he's home to stay. We have been searching for some time for the right male to bring in to compliment our program and take it further it the direction we want to go with our dogs.
Nomad is perfectly proportioned, with straight legs, a nicely curved topline, a long elegant neck, and correct conformation. He is exceptionally small, very refined and elegant, and has a graceful and poised demeanor. Nomad is a consistent size reducer, is homozygous for solid color (will not produce pied puppies) and genetically can produce pups of any color (as he is out of red and blue parents).
A huge thanks to Lois March for allowing us the opportunity to share our lives with this wonderful boy!

CH LEBECK NOMAD AT MARCHWIND
"Nomad"

Breed:

ITALIAN GREYHOUND

Color:

BLACK/WHITE

Sex:

MALE

Reg.#

TR30856101
Parents
Grand-Parents
3rd Generation

CH MARCHWIND LEBECK BLUE MOUNTAIN,
BLUE/WHITE


CH LEBECK MARCHWIND BLUE STREAK,
BLUE WHITE

SILVER BLUFF ONE IN A MILLION,
FAWN WHITE

MARCHWIND LEBECK GATOR AIDE,
BLUE WHITE

CH MARCHWIND CONFEDERATE ROSE,
BLUE WHITE

CH MARCHWIND HOTSTEPPER,
BLUE WHITE

CH MARCHWIND CONTESSA OF SHAWNO,
BLACK WHITE

LEBECKS TINA LOUISE,

RED WHITE

CH BO-BETT OLIVER OPAL OF WINDERMERE,
RED WHITE

CH TEKONEVA'S DARIO,
FAWN WHITE

CH WINDRIVER RUBY TUESDAY,
SABLE WHITE

SILVER BLUFF DANCING ON ICE,
BLACK WHITE

SILVER BLUFF DOC HOLIDAY,
SABLE WHITE

SIRIUS ALEXANDRIA D'SILVER BLUFF,
BLUE WHITE

Additional Pedigree Photos
| | | |
| --- | --- | --- |
| LEBECKS TINA LOUISE | CH LEBECK MARCHWIND BLUE STREAK | SILVER BLUFF ONE IN A MILLION |
| | | |
MARCHWIND LEBECK GATOR AIDE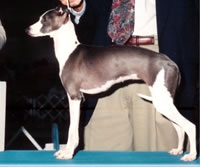 • Back to Our IGs page •




• Home • Our IGs • Available • Litters • Sales Policies • Partnership Program • Testimonials • Photo Gallery •
• Just A Little Faith! • IG Care & Info • Pet Store Pups • How Could You • IG Rescue • IG Links • GuestBook •
• About Time Rescue • About Time Web Design • About Time Cane Corso • About Time Acres •