Placing the Italian Greyhound puppies we raise in their new homes is a responsibility we take very seriously. All of our IG puppies are sold with a full Five Year Health Guarantee on a Show or Companion Contract. We provide Lifetime Support and guarantee a Home For Life for every puppy we place. Companion Italian Greyhound puppies are sold with AKC limited registration papers and a sterilization agreement. Companion puppies from About Time Italian Greyhounds are NOT the undesirable pups from a litter. They are simply pups who will not be used for breeding or showing. They are quite often show quality, placed in companion homes, and are sold with the same Guarantee. (We do not offer "breeding quality" IGs - we believe that if a dog is not show quality it should not be bred.)
You can take a look at our Italian Greyhound puppies for sale below. If you are interested in one of our available IG puppies, please review our Sales Policies page and take a minute to fill out our online Application. We will contact you promptly. References will be required.


| | | |
| --- | --- | --- |
| Staring at pictures of adorable puppies can have serious side effects, including increased heart rate, thoughts of longing, a realization that you feel empty inside, and a strong desire to bring home a puppy (or in some cases... "just one more"). | . | |


Available 'About Time' Italian Greyhounds:


Please see below for 2021 Availability photos & updates.

Currently Available Italian Greyhound Puppies:
Our pups will be outgoing and love everyone they meet. From lines that are consistently full of fun and think every day is a new adventure waiting to be explored! Will be current on vaccinations, started on housetraining, well socialized with children and other (large) dogs. Transport/delivery is available across the US to approved homes.
•> CLICK HERE TO VIEW ALL AVAILABLE PUPPY PHOTOS <•
---
PUPPY AVAILABILITY EXPECTED IN COMING MONTHS!
Blue, Seal & Red Fawn Male & Females
Winter 2021 and Spring 2022 Litters Planned
Please CLICK HERE for photos, contact us for reservaiton details and availability!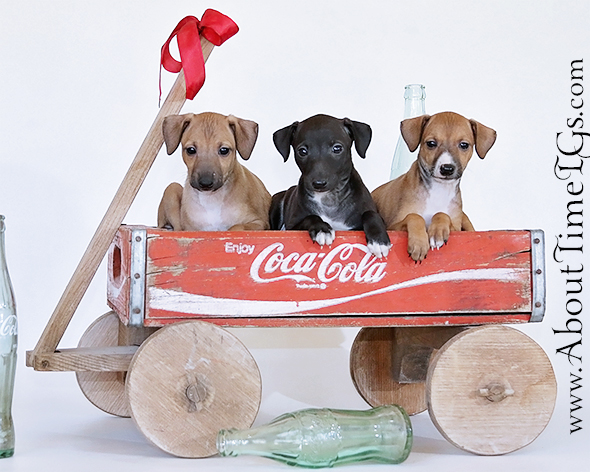 ---
Photos of each of our pups currently Available for Sale are provided at this link:
•> CLICK HERE TO VIEW ALL AVAILABLE PUPPY PHOTOS <•
Please contact us for additional details and bear with us while we are getting our website updated with a new design!

As dedicated Italian Greyhound breeders, we take the job of placing our IG puppies in loving responsible homes quite seriously. We stand behind each of our Italian Greyhounds with a five year written health guarantee, and we guarantee a home for life for each and every IG puppy we produce. In over 20 years of breeding we have never had a single "About Time" puppy end up in rescue or a shelter. We sell our companion/pet puppies to approved homes on spay/neuter contracts with limited registration papers only. Pick show prospect Italian Greyhound puppies are available to approved homes who are serious about buying a good quality show prospect. We do not sell 'breeding quality', we do not believe in such a term. We believe that if a dog is not show quality it should not be bred. We pride ourselves in placing the right Italian Greyhound puppy in the right home, thoroughly screen all prospective buyers and we do require references. We have been involved in breeding purebred dogs for more than 16 years, the last 8 in IGs. Our goal is to breed not only for a correct Italian Greyhound, but a healthy IG with a family-friendly personality. All of our IGs are carefully selected with health and temperament in mind prior to breeding.

If you would like to be notified of our Future Italian Greyhound Litters as they arrive,
Please Join our Update List!

Deposits are accepted on a very limited basis to Reserve
a Pick-Of-Litter pup from upcoming breedings.
Click here for additional Upcoming Litters.
Click here for additional Reservation Details.




• Home • Our IGs • Available • Litters • Sales Policies • Partnership Program • Testimonials • Photo Gallery •
• Just A Little Faith! • IG Care & Info • Pet Store Pups • How Could You • IG Rescue • IG Links • GuestBook •
• About Time Rescue • About Time Web Design • About Time Cane Corso • About Time Acres •