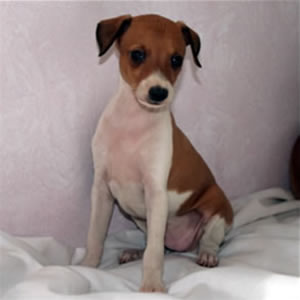 Laura,
"Amber is precious. She has settled in and adjusted real well thanks... it's like she has been here forever. The kids don't want to put her down and let her walk! She slept thru the night last night, and loves her new bed. House training is coming alone quite well. Its been so busy around here with the kids having baseball... and yes Amber loves going to the games. Everyone that meets her comments on how friendly and beautiful she is! Hard to believe its only been a month since we have gotten her... we all have become very attached already... I will send you an updated picture as soon as I get my camera back. She has grown so much within the month its unreal. She is quite stunning...
Thanks again, so much, for this precious little bundle."

~ Joann M.
---
Just wanted to give you an update on Amber... She is so precious we can't even stand it... She loves everyone she meets... She wants to love and hug and of course give them Amber Kisses... here are a few photos of us on vacation with Amber... she just loved running on the beach ... keep in touch..."
---
11/26/06 Update
"Amber is wonderful... she had a great thanksgiving... she came with us to dinner at my aunts and she played well with her dog. We have seen the story of
Faith
on your website already... we follow her story at least once a week. My daughter will regularly check your site for new puppies for us to take... Amber is the highlight of the house anytime someone comes she has to welcome them with hugs and Amber kisses.. She is a beautiful dog... both inside and outside. Can't seem to break her of the sleeping with me and my husband habit.. but it doesn't bother me she keeps me warm... she is very long when stretched out... I will send updated pixs when I get them uploaded..."
Hope all is well with you and take care,
JoAnn