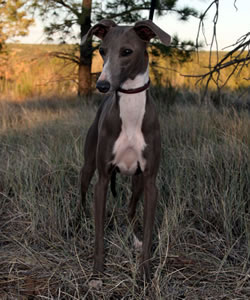 Dear Laura and Richard,
Bella was delivered to us @ 10:45 AM Hong Kong time. She is amazing! It has been love at first sight for all of us. She has been adjusting amazingly well, and we're all settling into sleep now. I'll write more later, but please feel comforted in knowing that she is quite well, and bonding with us all now.
Blessings, and thank you soooooo much.
Lori
---
Hi Laura,
It seems about time, or past time, that I write to update you about Bella.
Bella's a very happy girl. She has adapted to our family and her new home in Hong Kong so well. She really enjoys company, so she tends to follow me wherever I go and settle herself there. Right now as I type on the computer, she is happy to sit at my feet and play with a ball. Another thing we noticed about Bella is that she is a 'chewer'. She really enjoys all of the rawhide chews that we bring home, and they are helpful because we can use these items to attract her away from things that are harmful to chew (like wires). Bella likes her naps in the sun, but she is always ready and eager to go hiking on the many trails throughout Hong Kong. I'm a little reluctant to bring her to adventurous places right now that we are moving into rainy season here as I have seen snakes before, and I worry that Bella will think snakes are friendly playmates. Bella is so well socialized, but we don't want to socialize with snakes.
Bella's most endearing characteristic is her sweetness, her gentleness. She is not one bit aggressive. We were just visiting the vet last week. During the vet's entire examination and the consultation time, Bella never barked. She was very brave. I could tell that she was a little afraid, but she behaved so cooperatively. We felt quite proud.
Kindest Regards,
~ Lori, Patrick & Audrey - Hong Kong