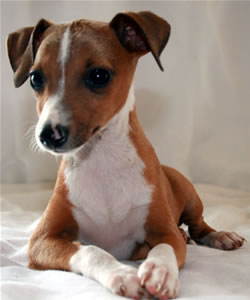 "Hi Laura,
Right now, I'm pinned to the sofa by a small, red-and-white, furry lap-fungus. He's turned out to be 'Benny'. He's so cute, it's almost unreal! :)
Benny has become 'Benny-The-Wonder-Puppy'. He and Sebastian (the kitten) are getting along famously. Benny's relationship with Gator waffles between Gator's moods of 'leave me alone' and 'cool, the little guy wants to play'. The adult cats have decided he isn't much of a threat and he isn't going away so they might as well talk to me again.
Last night was our first night of puppy kindergarten. Benny is the oldest at 14 weeks, but everyone is about the same size (this week)! He holds his own in spite of the strong personalities in class. I do see a definite 'people orientation' in his company preferences.
The instructor has show and agility dogs of her own. Her techniques are nearly identical to the ones I've seen on your site, so I'm quite comfortable with what we're learning with her. She and I have even discussed my desire to get Benny into Agility (she teaches those classes too). She seemed quite impressed with Benny's interaction, confidence, and athleticism. She also commented on the bond she saw between Benny & Michael and I. She found it hard to believe he's only been with us since last Friday.
To say we're pleased with Benny would be a serious understatement. I can only say I am truly glad I didn't talk myself out of getting him. Although I hate to think I might cave in and look at next Spring's pups! :)
For now, Benny is the center of the household, along with the rest of our fur-babies. I must say, he has his work cut out for him - getting us trained and all. :)
Thanks for such a wonderful addition to our family!
~Nancy & Michael