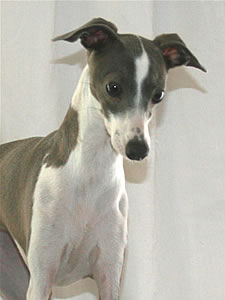 "Laura,
Caelyn is truly the best dog/friend a person could have. She is a very smart dog and well bred. She loves people and likes to make human friends. Caelyn's favorite place to be is in your lap and up close to your face. Furthermore, I purchased her for myself but she has become my husband's dog. I think they claim each other! LOL.
We really enjoy Caelyn b/c not only is she our housedog, she loves to be active and can run faster than either one of us when we go on walks. I would say as a greyhound her favorite thing to do besides eating is taking walks during which we are always questioned about her beautiful appearance on our outings.
She really is super smart. We love her!!!!!!!!!!!!!!!!!!!!!"
~ Lea & David L.
Dallas, Texas