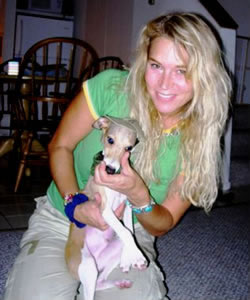 Dear Laura,
"Wishing you and Richard a wonderful 2007!!! And hope you had a beautiful holiday season. BTW- Dante is doing great!!! My daughter and I decided that Dante was definitely the most handsome out of all of our dogs!!! As much as we love all of them the same!!! He's just so handsome, and I still can't believe I picked him out not knowing how beautiful, wonderful and sweet he would be, he is my little protector for sure as well!!! I fell a few times and he would run to me to see if I was ok, and will stay with me until he's sure I can get up. Nothing serious, but still... I will send you a new pic. Ok, well, talk to you soon,"
All the best! Natalie
---
Dear Laura,
"Thank you for a wonderful page w/ Dante, DaVinci, and Micky, I think it looks great!!! I hope you liked what I wrote because I really meant every word I said, Dante is so amazing!!! Everyday I love him more and more( if that could ever be possible), He is such a happy and healthy little boy, and he's funny w/ a sweet and charming personality. He is also very curious!!! Laura, I never thought I could have been so unbelievable happy w/ my little guys!!! I'll send you some more pics!"
---
Dear Laura,
"I would like to thank you, from the bottom of my heart, for sending Dante into my life. It all started out because I fell in love with an IG, named DaVinci. I just fell in love with the breed, because of their amazing ability to be a great comfort, lots of fun, energetic, but not overly so, I would have to say, PERFECT, just perfect.....!!!!! I then decided to get another one to let DaVinci have a pal to hang out with, and to have company when I was not at home. I looked through the web, and I found Laura, at About Time Acres. I had looked through hundreds of sites, and found hers to be the best. I am not usually a person to ever purchase an animal over the net, but I did not want to go to a pet store, and there were just not any breeders I found of interest in my area (NY). I finally wrote to Laura about getting information on upcoming litters, she then told me she had a few available now, and to look at them on her site. I looked and fell in love with Dante. At the time his name was Scamp. I called Laura, and she was extremely pleasant and easy to deal with, very laid back, and personable. I then put down my deposit and she had my name put up next to his picture, saying, "CONGRATULATIONS,TO NATALIE IN N.Y." I was thrilled, and I could not wait to get my new little boy. He was a fawn and white IG, where as my other IG, (DaVinci) is a blue and white. I looked forward to having a contrast. However that was not the most important issue. As long as I got a playful, outgoing, little boy in good health, I knew I would be happy. And I am, more than I can express in words. Thank You so much for bringing Dante into my life.
I always keep in touch with Laura, she is an incredible person who loves all of her dogs. I have called her with questions and she is always more than happy to talk to me and to guide me with any questions I might have. She has also helped me with my other dogs as well. I would not hesitate to buy another IG from her as she is such a good person, and has great, and healthy, happy upbeat dogs. She takes very good care of them. Thank you Laura, from the bottom of my heart."
Sincerely,
Natalie B.