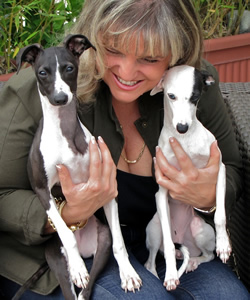 Dear Laura, thank you so much for our wonderful puppies; you really bred beautiful, playful and healthy dogs. Our babies are wonderful and really playful. You are right, they are unique in Italy and they are gaining a lot of fans when we walk around with them. We were really worried for the long flight from New Mexico to Italy, but our babies didn't suffer from their overseas travel.
Here is a small description of our babies:
Draco: it only took him about few hours to consider us his new family.
He's irrepressible, untiring, thief of slippers, always hungry, strains the leash like a Great Dane. He's fearless and impudent, any other dog is a great friend (or this is Draco's thought), any person must be followed, then accuratly snorted and then ascended. Any open door on his route (no matter if house, shop, museum, church or garage) must be visited.
He works by two ways only: turned on and turned off (no standby or wait state or recharging pause). When he decides to switch off himself he immediatly sleeps like a log, come rain or shine.
He's very intelligent, curious, fancy like no other, devoted, in other words: a likeable scoundrel.
Newme: it took about two weeks before to see the tail out of the legs but now she sooooo sweet and lovable... and always tries (often successfully) to sleep on our bed. She doesn't love very much other dogs, she is too snob for them :) she prefers to play with our two cats. She loves to play and run with Draco but when she is exhausted, she finds rescue in our arms.... obviously Draco desagrees and starts jumping. She is already wellknown wherever we go in Verona: her blue eye makes impossible to forget her. She really has a lot of fans :)
We are showing Italy that not only solid colours are right for IGs. Everybody is enthusiastic about our "small cows"!
~ Osvaldo and Pamela, Verona, Italy