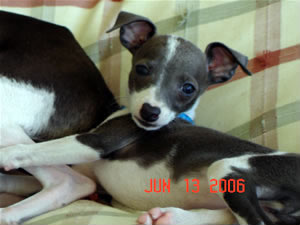 Laura,
"Mia is just a little package of "go". We just love her. You did a great job with her. She is a very happy and fun loving puppy and she just loves Bella. When they are laying down, Mia has to been near Bella and wherever Bella goes – there goes Mia. The two are constantly on the go, running, jumping, and chasing.
One of the cutest things is when Mia sees me go to the treats, she turns and goes and finds Bella and then jumps at Bella all the way back to me like "look Mom's got treats – Yippy".
At her checkups, the vet says she is in great shape and very healthy, she weighs about 4.5 - 5 lbs, very dainty. I will send you some pictures of her and because she is usually with Bella, Bella will be in the pictures too. Take care."

~ Jan A.