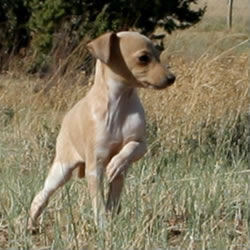 "Hi Laura!
I just wanted to give you an update on how Cooper is doing! First off, he is everything and more than I expected from him! So thank you!
He visited the vet on Saturday, the Vet fell in love with him as well. The vet had shared that everything looked great on him.
At home he is getting used to his crate at night. He snuggles up in the crate and knocks out almost the entire night. He wakes up around 3 AM to go to the potty. Speaking of potty he is doing really well with the Pet-a-potty (www.petapotty.com) I purcased for him. Especially with "number 2"! He has had a few accidents around the house however I expected that. I was a little worried that he would'nt use the pet-a-potty, but when he jumped up on it and did "number 2" on his own my worries were over.
He does like to chew (as do must puppies), so he has a few chew toys that come in handy when you need to swap your finger out of his mouth for a chew toy (the vet also found out he has great teeth!).
He is doing really well, full of energy and bringing lots of joy to my home. And health wise he is doing great!"
Take care and talk to you soon,
~ Douglas H.
---
"Hi Laura!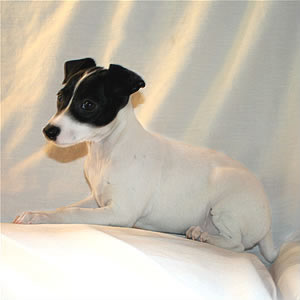 Minnie is doing really well. It is funny to see her and Cooper play together. Cooper can be somewhat of a "Toy Hog" and she gets right in there and steals it away from him. She really is a determined little pup! In turn, Cooper finds another toy and she snatches that one away from him too! Too funny to watch! I am so proud of my little boy; Minnie's teeth as you know are really sharp. At times Minnie charges into Cooper and she will bite down on anything she can get her mouth around. If she gets Cooper good, he will let out a little yelp and he will let her know that the little nip was not a good thing by nudging her with his head or try to pin her down. He never tries to bite her back though.
The other thing that is fun to watch is how Cooper didn't gain a sister, he gained a little shadow. If Cooper goes to look outside the window, Minnie is right there looking out too. If he goes to get a drink of water, she is right next to him drinking too. When Cooper is eating his kibble, if any little pieces fall she is right there to gobble them up. But the overall best is in the morning. To see how they have snuggled up together, Minnie is usually always in some funny position right next to Cooper.
Minnie is getting so big! Little by little she is getting more spots appearing under her white coat, I call her my little IG Dalmatian!"
Talk to you soon & have a Happy New Year!
~Douglas