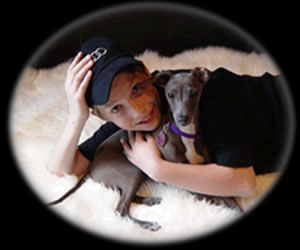 "Laura, Misty is just precious. I could go on and on, but it's all more of the same. We are in heaven with our new family member, and I'm pretty sure she feels the same. She is so playful, but still so cuddly. She is exactly what we were looking for!
Thanks so much for bringing new life to our family..." Kathy
---
We enjoy getting your e-mails. We got one today. Lots of cute pups!!! I must agree with you on how "socialized" your pups are. During my IG research before we purchased Misty, I read on many sites about how they didn't like to socialize with people they didn't know. Misty LOVES everybody, and doesn't know a stranger! My sister has an IG who is the opposite. The comment about Renee and the bed, Misty is just as bad. She sleeps with Ben at night, and starts our under the covers. When I wake him the next morning, her head is laying on the pillow beside his. It's hilarious!!
We have had so much fun with her! We're all glad she's a part of our family.
I've inserted some pics for you. We still enjoy looking at her pics on your website.
Best regards,
Kathy C.