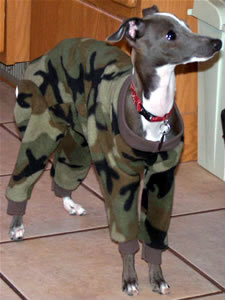 Laura,
"I cannot even begin to express how much my husband and I love our baby, Mobley. He is the perfect dog, and everything we had hoped for. It was so nice of you to take the time to really get to know us, answer any questions we had, and to help match us to the perfect dog for us. We cannot say thank you enough for matching us with such a great little guy. What we love most about him is his fearless and happy nature. He isn't timid like so many Italian greyhounds you meet, and many people have told me that. They are always amazed that such a little dog can be so outgoing, loving, and fearless. That is a true testament to the way he was raised while in your home. You did everything right when it came to him because we have no complaints. We were both amazed at how smart he is and how quickly he learns. Especially if you add food into the equation! He thinks everyone is a friend and loves to meet new people or dogs. Mobley has already made friends with the sharpai that lives upstairs along with a boxer and a couple other Italians in the city. Mobley thinks he is the king of the house, which he is of course! Now that my husband and I are in the long distance relationship for awhile, Mobley has already been my best friend. It's like he knows when I just want to cuddle with him, or when I want him to take my mind of things. He is so perceptive. Thank you again, for doing everything, and more, we could have asked for in a breeder. You such a special person and I thank you for also being my friend. Thanks!!"

~ Katie D.
---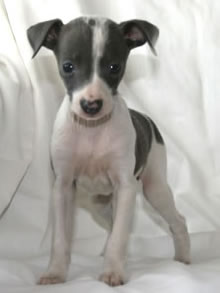 Laura,
"I don't even know how to thank you. Kasia has now been here almost 2 months, and it feels like she has been here forever. Not only does Mobley love her so much, but so do I! She has gotten so strong and has now mastered jumping everywhere and enjoys romping around with Mobley at full speed! They have become the best of friends, and I can't imagine going back to having only one dog! She is so beautiful, and we have gotten so many compliments from anyone who sees her. They are always impressed that she has the same outgoing and fearless nature that her brother does. They are so similar and it's so apparent that they are siblings. I am sure I sound silly when I tell people I think they look alike in their "baby pictures"!
Once again you have given us an incredible and wonderful dog and we couldn't be happier. Mobley is so thankful to have a playmate, and we are so lucky to have two wonderful dogs. Not only are they beautiful and healthy, but they are so outgoing, well socialized, and very happy. Because we have two from you, I know this is not by chance. Thank you again for all you have done and for being such a great support to us. You are amazing!!
~ Katie & Alex, Mobley & Kasia Dunn