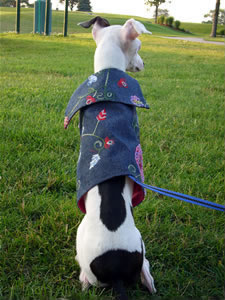 "Hi Laura!
Sorry this it has taken me so long to get back to you on this. Attached are several pics of Miss Olivia Jean--being naughty and nice (more naughty, as usual). There's one where she's posing with Chester, her partner in crime (the cat), a few where she's harrassing my parent's rotti-mix, Fritz, and one where she's wearing her earplugs for the fourth of July fireworks (which she slept through).
Unfortunately I did not have the pleasure of working with you from the get-go and only recently found out that my pup was the product of a bad deal made with a compulsive liar.
[Olivia was originally placed with an individual who purchased two pups from me under false pretenses with the intent to resell them, violating the terms of our purchase agreement in doing so. Danielle is the wonderful home that we are thrilled Olivia ended up with.]
However, I must say that I am relieved to now be able to work with a dog breeder who is truly concerned about the wellfare of her pups, is professional in all regards, and has a reputation for producing balanced, good-tempered, and refined dogs. Olivia is all of that. She's absolutely fearless--but by that I don't mean stupid. Unlike many toy dogs, she's not skiddish. Instead she's eager to greet both small and large dogs--as you can see from the pictures, she has no reservations when it comes to dishing out to my parent's 100 lb rotti-mix. Everyday she swings back and forth between being a mischievious, go-go dog (which is when we call her "Olivia-a-go-go") and being an absolute cuddle bug. My husband made the fatal mistake of suggesting we see what would happen if we let her sleep in the bed with us--she's slept there ever since. She was definetly the star pupil of puppy kindergarten and took to the mini agility course like a fish to water. While the other puppies were timidly trying to walk up the ramp, Olivia was charging up the teeter-totter, marching across the cat-walk, and catapulting over the jumps. Hopefully we can start doing some agility classes for fun soon.
In almost every way she lives up to the breeds characteristic personality: sensitive, trusting, a bit stubborn and independent at times, smart, but mostly she's just a great buddy! She's matured to around 13" and is about 8.5 lbs. Her markings, particularly the split face fit her personality perfectly--one side is angelic, the other is dark and devious! She certainly keeps us laughing! Thanks again for all your help and the great job you did socializing her as a young pup!--I think it really made a difference."