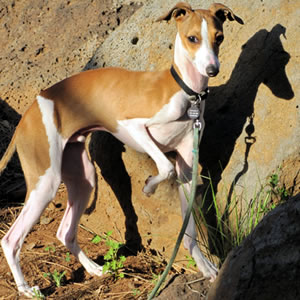 Dear Laura,
Thank you so much for quickly sending the link to the AKC website for Sparky's registration.
As you know, our little guy started out in this world as a little Italian fellow named Demitri. Somehow, that rather dignified name just didn't quite fit, as he very quickly showed us just how rambunctious and full of wild fire he is! He's definitely not shy and retiring, and because of his personality and his Red Wild Irish markings, we decided to name him "Sparky."
Sparky is six months old now and has grown from a pudgy little puppy with teeny tiny little toe nails to a whopping 9.5 pound teenager. He's absolutely gorgeous and we love him very much.
You never know when you shop on the Internet what you are going to find. Even though your website was very explicit and it sounded as though About Time Kennels should be a wonderful place to find a well-bred puppy, we were still a little nervous about buying a dog from 600 miles away. We were, however, very pleased to meet you and "Demitri," and, of course, little Faith, who very obligingly peed on the puppy's pee-pad so he would know just what to do. Your down-to-earth but knowledgeable approach to the breeding and care of your dogs is obvious in our little Sparky. We sure are glad we found him!
All the best to you and your family. Thank you again, Laura.
Regards,
~ Sue R, Arizona