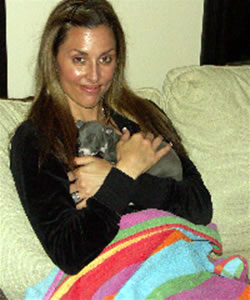 Hi Laura,
"Since Tank has arrived he has brought so much fun and love into our lives. He and Dash became buddies quickly -- if they're not playing together they are snuggling. I thought it would be difficult with two but it seems almost easier.
Tank is very smart. At ten weeke he knows where to potty, he can sit for a treat and already knows his name. His name fits him because his personality is big and mighty.
Tank's disposition is great. Our veterinarian said he is very healthy and that the breeder did an exceptional job. Laura, you did do an awesome job! Tank has all the qualities anyone could want in an IG. We love him dearly, he completes our family.
Thank you, Laura!"

Warm Regards,
~ Debra and Trey
---
"Hi Laura, I just wanted to give you an update on Tank. Approaching his first birthday, he is very healthy and loving life. Tank is an all- around wonderful boy. He has a big heart, a confident strut, and is a playful, fun loving companion. Tank is a special part of our family and he brings more joy to each day.
Once again, thank you Laura for our beautiful Tank."
Best regards, Debra A.