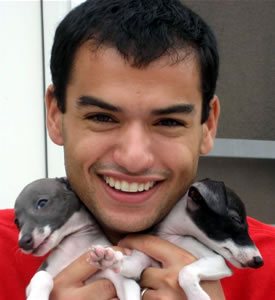 Laura,
"As you know my husband, Randy, has always loved Greyhounds. He adopted a full sized Greyhound named Coldwater Prima (Pre) about 4 years ago. She is such a sweet 40 mile/hr couch potato. She was our only dog for the first 2 years we dated. After moving to Albuquerque about a year ago, I decided I needed my own little baby. Lucky enough I found a litter of Chihuahuas that were at one of the local pounds. I went there immediately and picked out my little girl, Penny, and got her 2 weeks later when she was 6 weeks old. She was a little fireball and full of energy. We hated leaving Penny everyday in her playpen alone (since she wasn't potty trained). She soon won my heart as well as Randy's. She was not like any Chihuahua I had growing up. She never picked favorites and she welcomed each new comer with kisses. When Randy and I went to Arizona to get married this May we left our little Penny with a trusted friend. Our first evening in Arizona, we got the phone call that our little girl had escaped. Flyers were posted, the pound alerted, and ads were put in the newspaper, however we did not find our little girl.
Randy and I had decided a while back that when we had a bigger house we would add an Italian Greyhound to our family. Then on our honeymoon in Napa, CA a couple came into a vineyard carrying a 4-year-old blue IG female. I took it as a sign that even if we got our Penny back we were going to get a blue IG.
When we got home from our honeymoon there was still no sign of Penny and we started to research IG's more and came across the "About Time" website. We fell in love with the puppies immediately, filled out the online application and called you. After talking to you and knowing that you live only 30 minutes from us, we decided to get our puppy from you. Over the next few weeks I spoke with you over the phone and arranged a time to meet some of the puppies. We got to meet many of the Dams and Sires and see how happy all the dogs were. Naturally, my husband and I could not pick just one puppy. We ended up picking two. First, we loved them all and second, we wanted to make sure our puppy had a playmate. We didn't want to have the guilt of leaving the puppy home alone for 6 hours a day.
We got Zinfandel on July 10, 2007. He had a great personality from day 1 and had us trained and was sleeping in our bed by day 3. We had lots of fun with him and were just waiting for our little girl to come home too. Any new person Zin meets he has to give kisses and bite noses. He learned quickly not to bite Pre's ears or take Pre's rawhides. When he is tired from playing hard he likes to curl up with his big Greyhound sister for a nap. When I would get home from work he would cry at me for leaving him alone all day and then give me kisses. Luckily his crying only lasted until we got our little girl.
We got Vina on July 26, 2007. She was more timid then Zin initially and it took her a few days to really feel at home. Currently she is about a pound smaller then Zin, but she is the bully. She instigates most puppy-on-puppy attacks. She has really come out of her shell, though she is a lover when she wants to be loved. Vina and Zin have very different personalities already. He is very obedient and will sit for a treat, while she attacks you for one. He will sit pretty for a picture, she attacks the camera. He bites you and gives kisses for attention; she gives you wet nose kisses. Both of them are full of energy and will attack each other and play for hours and then want to cuddle with us when they are tired. They are really a joy to have.
Thank you Laura for all your help and advice. I hope we can set up some puppy play dates, so you can watch them grow with us. We absolutely love our little Zin and Vina."
Thank you,
~ Tara, Randy, Pre, Zin, and Vina
Note Added: Zin & Vina are store mascots for Randy's local business www.AbqRunningShop.com!