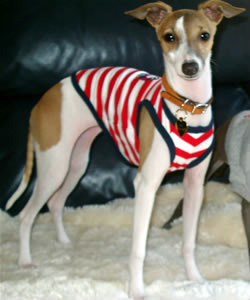 Hi Laura,
"I just wanted to let you know how much I absolutely love and adore my little Pia! I had absolutely no idea how much I would cherish this little angel. From the moment we picked her up from the airport and I heard her first cry, I knew she was my very special little girl.
Pia is my constant companion and bed warmer and gives me endless love and kisses. I can't wait for her to wake up in the morning to greet me so we can start our day together. The entire family loves and adores our little Pia and she has already made many new human friends. Pia is also a legitimate "chow" hound! She loves your famous chicken, rice and egg dinner so much that she prances tirelessly around the kitchen until it is done cooking!
I will never be the same now that Pia has come into my life. I want to thank you for raising such a beautiful dog, and most of all I want to thank Kristina (and Alphie - shown in some of the pix below) for bringing Pia home to me."
Warm Regards,
~ Camille
---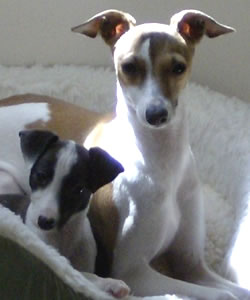 Hey Laura,
"I just wanted to let you know that the first week has been great! We absolutely love Nadia, whom we have decided we will name Lola. Lola is quite a handful and gives Pia a run for her money. She is very sure of herself and is confident enough to sleep alone in the kitchen in her cozy den that we have made up for her with her favorite bed and blanket. Lola loves to chase Pia and Patsy and Alphie and as tiny as she is, she can stick up for herself even in this rowdy group of IG's. I wanted to send you some pictures so you can see how adorable she is and getting bigger by the second!
Thanks again for sending us our little bundle of joy! I cannot begin to express how tickled we are to have her!!
Best Regards,
~ Camille