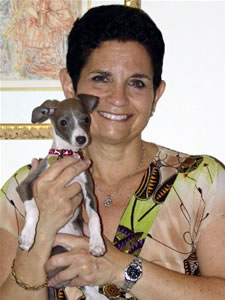 "Dear Laura,
Spunky and Magic did it again! After waiting and hoping that Spunky would have at least one little female puppy for me to join sisters Karma and Lexi, she came through and had only one, perfect female pup in her June 20th, 2006 litter. I'll never forget how you emailed me after every puppy was born, going into the early morning hours...what an exciting night!
Until she arrived on August 23rd, you once again, kept me up to date on her progress with lots of emails and beautiful pictures. We have had so much contact for over a year now, first waiting for Karma and Lexi, then Deja that I don't consider you just my dog's Breeder, but also my friend. You couldn't have been more helpful and considerate. And, because I have several friends who have also gotten their puppies from you, I know you are this way with everyone!
When I picked Deja up at the airport, I was amazed at how exquisite she was. The pictures, as beautiful as they are, really don't do her justice. Karma and Lexi are so pretty, I really didn't think there could ever be another puppy as lovely as they are. I was wrong. Not only is Deja gorgeous, but she has an attitude to match. She is sweet, loving and very smart. In only a week, she already knows where to go to use the potty tray, thanks to Karma, Lexi and my constant supervision. Her personality fits perfect with Karma and Lexi. They have wholeheartedly welcomed her into their pack and seem to totally enjoy her puppy antics. As small as she is right now, her size does not stop her from "getting into it" with her sisters. She can play as hard as the big girls. All three of them already have settled into a routine of snuggling together when they sleep. I couldn't have asked for a better outcome.
Thank you, once again, for sending me another perfect About Time puppy for my family."
Linda, Karma, Lexi and Deja
For more photos of Deja, visit her Photo Gallery on IG Whispers!