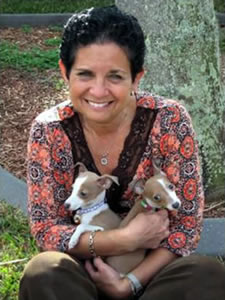 "Dear Laura,
It has been one week since Karma & Lexi, my two beautiful little girls, came into my life and I just wanted to tell you how grateful I am to you for these gifts. It has been just over 6 months, July 13th, 2005, that I had to put my 15 year old IG, Star, to sleep. She was my constant companion. I had always known that when Star passed, not only would I get another IG as soon as I could, but I would get two this time. That night, I sat in bed with my Laptop just to investigate different IG websites, only too look at pictures of what I was now missing. I couldn't sleep, so I spent most of the night just clicking on different IG Links. It was that first night that I came across your website. I must have spent about an hour looking at pictures of your beautiful Sires and Dams, Past Litters, Upcoming Litters and reading about you, your Sales Policy, and your Contracts. From reading your Sales Contract and Sales Policy, I could tell how much you really cared about every one of your pups and the concern you had for their life in a new home. Not only does the Buyer have to trust the Breeder, but the Breeder must trust the Buyer to provide a safe and loving home for each puppy, and that was a big concern from your standpoint, which I liked. The next few days were very difficult for me without Star. But, I continued to look at the countless IG sites that one can find on-line. However, I always came back to About Time Acres over and over again. Something about your site and your IG's just drew me in and I didn't want to leave. As I became more familiar with your site, I found the Pedigree pages for each of your Sires and Dams. They all had outstanding Pedigree's. However, there was one particular Dam, Spunky, that caught my eye. From her Pedigree, I could see that she was closely related to Star and was due to be bred in the coming months. That is when I made the decision to fill out a Questionaire and email it to you. You contacted my within a day or two and we spent time talking about Spunky and her upcoming litter as well as myself and my ability to care for two of your pups. You were so nice, taking the time to answer all my questions. I decided then to Reserve the first and second Female Pick, and just hope there would be two females in the litter. From the time I Reserved my pups, I had many questions and was periodically emailing you. You never let more than a day or two go by before you answered all my questions, even calling me in South Florida by phone on several occasions. I loved the fact that your website was constantly updated so I could view the litters that were being born before my own and watch their progress as you posted new pictures every few weeks.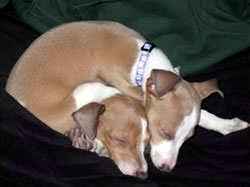 On October 25, 2005, Spunky had her litter, three males and two beautiful blue/fawn females, both mine. From the time they were born you kept me satisfied with all the great pictures that you posted of them as they grew as well as emails. When I again had questions about them, you promptly responded. I couldn't wait to get them in my arms and once again have the companionship of this wonderful breed. Because I live in South Florida, I was concerned about their long flight to me from New Mexico. But, you assured me that all would be well, and it was. On January, 8th, 2006, my puppies arrived. Even though they were tiny and beautiful in their pictures, they far exceeded anything I imagined once I had them in my arms. They are so exquisite. I feel like they have always been a part of my life. So much so, that I have now Reserved my third About Time Acres female puppy, to be born in June, 2006, a sister to my first two! I cannot thank you enough for what you have brought into my life with these beautiful, healthy puppies, Karma & Lexi. The joy has truly returned. Even after my third puppy, I will continue to visit About Time Acres to check out all the new litters. I love the fact that I can be Notified by email every time a new litter is born. And, I will always update you with pictures on how Karma & Lexi are maturing as well as hopefully their new sister, Deja, if I am so lucky that a female will be born for me."
Again, thank-you Laura for all you've done.
Sincerely,
Linda C. Wellington, Florida
---
Update: 06/02/2006
I have to tell you...Karma and Lexi diverted a break in at my house last night. I was on the couch at about 11 pm watching tv. Lexi and Karma were under the blanket with me. All of a sudden, I hear growling comming from one of them....from under the blanket. Then they started to bark...from under the blanket. Then they both ran to the front door. I peeked around the corner to see if I could see anyone. My front door is beveled glass...nothing. I also have motion lights that were on. They were really going nuts. About an hour ago, I went out the front door and immediatley noticed that it looked like someone had tried to wedge a screwdriver under the dead bolt plate on the door jam, but stopped before getting under the jam. It was fresh, the size of a screwdriver head and perfectly centered at the center of the plate. The wood and paint were lifted. I go out that door daily and since I notice everything, I would have noticed it before. My neighbor is with the Sheriffs K-9 dept. He is on his way over. So, Karma and Lexi are now my heros, lol. I should get two more instead of one, lol, or a Corso, the ultimate security system.
-Linda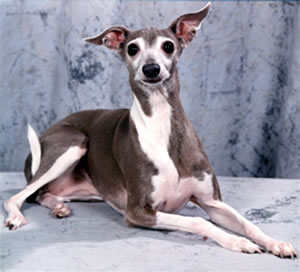 "Star" 1990-2005

For more photos of Karma & Lexi, visit their Photo Gallery on IG Whispers!