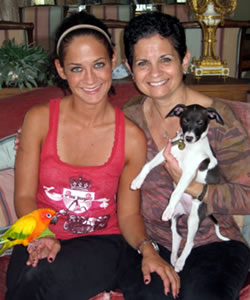 "Dear Laura,
I guess it's true, IG's are like potato chips...you can't stop at one. Nina just loves her new puppy. Stella has added the final touch to our pack of About Time girls. Karma, Lexi and Deja just love her. She is so affectionate and the best neck warmer at night in bed. I am not exaggerating when I say that by the end of one week Stella was using the potty pad all by herself. Of course, having her half sisters to take the lead made "getting it" that much easier.
There are no words to describe what living with 4 IG's all one year and under is like. My friends all say I have play date at my house every day. Thank you once again, Laura, for being such a wonderful breeder and caring as much as you do about all your dogs and treating each and every one like the precious being they are."
Your Florida pack,
Linda & Nina
Karma, Lexi, Deja & Stella
For more photos of Stella, visit her Photo Gallery on IG Whispers!