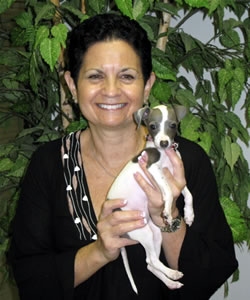 "Hi Laura,
We have to stop meeting like this! Ok...so Stella wasn't the "final touch to my pack of About Time girls". I think I've eaten the whole bag of chips by now.
Seriously, we are all so in love with Zoey, our new baby girl. She is just a joy. She is all attitude packed into a perfect little body. From day one, she fit into the "pack" like a missing piece of a puzzle. Karma, Lexi, Deja & Stella have all accepted "their" new sister, each one taking a role in taking care of her and playing with her ever so gently...most times. Zoey, on the other hand, now has 4 IG Mothers to cuddle with.
You know that as much as I fell in love with Zoey, and wanted her, I had to consider my 4 others at home, especially Lexi, the Alpha female. I was so worried how she would react to a new addition. As it turns out, it is Lexi who is the most gentle with Zoey. Lexi will lay on her back, in the submissive position, to allow Zoey to pounce and attack her, as only a puppy can. It's so sweet to watch. It is truly amazing how the adults all know that during playtime they are dealing with a small puppy and they need to be gentle with her.
So, thank you once again for breeding such beautiful, well socialized pups. And, as always, you are a wonderful, caring Breeder who not only looks out for her puppies but also the people who will be welcoming them into their homes to be sure they are a good match.
~Linda, FL
Karma, Lexi, Deja, Stella & Zoey
For more photos of Zoey, visit her Photo Gallery on IG Whispers!