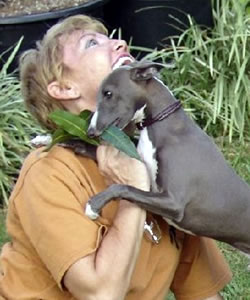 Dear Laura!
Well .. it's "About Time" (grin) I wrote to you properly, and thanked you for the absolute "Love of my Life"! (please don't let my hubby see this! LOL). Words literally escape me here, as I just cannot type enough words (but I will LOL) that describe what this little bundle of IG JOY brings to me and my Family (which is only Keith and his dog Flipper (LOL) ... but hey .. I'll give it my best "long winded" shot! LOL
"FIN"! Oh my gosh! It's hard to believe that he turned 8 months old on March 8th of 2007! It seems like just yesterday that he graced our presence! Ya know, .. I never thought it would be possible to love any one canine partner as much as I love this little dog! He surely IS, .. "A Magic Carpet Ride"!
I grew up showing many different breeds. Primarily Afghan Hounds and Borzoi's. I just LOVE SIGHT HOUNDS! In adulthood, I managed to have "lost/rescue" pups find me, I never really got to buy what I thought I may have wanted. Thinking all along I would get a dog to show in AKC sanctioned events. But that was okay, as the animals that I took in were loved like no other! They became "my partner". All my pets have lived out their lives like an "only child" at my home. Spoiled rotten of course! The first one was "Dawg" (a Lab/shepherd mix). Then after a wonderful 12 yrs, he went over that rainbow bridge, and then he promptly sent me "Snorkel", (see photo below) a brindle lab mix. Snorkel was with me for the next 15 glorious years.
About six years before Snorkel passed on .. a little black labby mix (we guessed her to be about 3 months old) was sitting on our doorstep when Keith and I got home from work one day. "Flipper" as we named her, became the ultimate shadow of my husband. It was quite clear .. that "HE" - was "HERS" - not mine! LOL - So Keith and Flipper, Snorkel and I .. made one big happy family. Yep .. that was us .. the picket fence (chain link), two car garage, and 2.5 children .. (well .. 2 dogs and a silly cat!) ..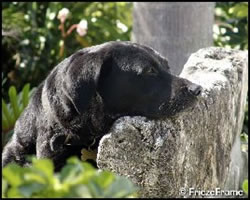 When old age set in on my Snorkel, and he sadly passed away this past spring, .. Flipper was unbelievably sad. (see photo at left) and understandably so! We all were, we'd lost our friend!). I wasn't initially going to get another dog, it was just too sad, and too soon. But, alas, it was pretty imperative that "Flipper" needed a companion. She'd quit eating, and would literally lay on Snorkels grave site in the backyard. Now that .. was sad. The "search" was on .. before anyone CLAIMED ME or saw the "Vacancy" sign out in front of the house! hahaha
Okay .. now I'm thinking .. "Hey! I really LOVE those sight hounds! But man .. at 51 .. I was hoping to have something a tad more "portable"! It's hard at this age to lift a big old honking Borzoi or Afghan hound into the vehicle to go to the vets, or to a horse show, if your ol' back is acting up where you'd had surgery back in '86! My Mom had a whippet awhile back named "Jodi" that I remember being quite the lovely little dog... but still yet, Jodi was a tad larger than I was hoping for. I was looking for something that could fit under the seat in front of me on an airplane! Mom also had a Chinese Crested that I thought was cool, but I didn't want hairless and the Powder Puffs were cute, but I really wanted that "hound look!".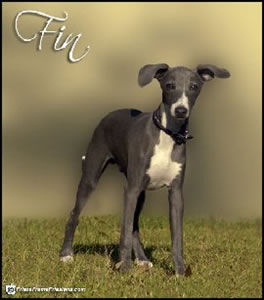 So, it didn't take much research to find the Italian Greyhound (!) - as the internet was a great resource just full of information, ... what took time was finding the right breeder!! And that was no easy task! Even though I have always been competitive, and show oriented .. with dogs and with horses .. I just could not guarantee a breeder that I would 'show' their dog. I have an unbelievable schedule with the horses, and I may not have time to go to dog shows with my new pup. (See Fin at left!)
This did not sit well with most breeders that I found who bred 'sound' and 'good natured' well bred dogs. They were mostly looking for folks to show their offspring so that it brought more accolades to their stud dog or Kennel name. Hey, no problem, I could understand that .. but, it made me very sad - to say the least. As I could offer an incredible home. Lots of love, fenced and cross fenced yard, good care and food, and a forever home where the dog was considered a member of our Family - and the dog's owner would sing the breeders praises till the cows came home!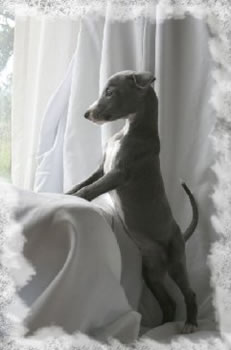 Well ... I finally found a breeder that bred the kind of dog that to me had good conformation and a great temperament! Gee? Guess who that was?
What set YOU apart from all the others, was the fact that your main concern was that your dogs that you sold .. got to go to great homes, where the dogs would have super lives, and not be resigned to a crate many hours a day. Your dogs were usually seen in the many photos, romping around your house with their siblings!! And with the HUGE Cane Corso's you raise as well! Talk about having a little breed get aclimated to the larger breeds! Wow! I also liked the fact that I couldn't find even ONE DOG of yours that had ever gone into rescue! And, I frankly think it's fabulous!
When I was reading the testimonials on your website that showed many people come back to you for dog #2, or #3, or yes, even a someone I met through you when I asked for references, ... has gotten her 4th dog from you! (Linda, with Lexi, Karma, Deja, and Stella, have since become wonderful friends! Both us and our IG's!). That just goes to show me, that your dogs are exhibiting good health as they mature, and that they must be coming to the new homes well adjusted, and showing great temperaments. You have an amazingly huge heart Laura, and just a natural love for all animals, and I really appreciated that you guided me (Almost even tried to talk me out of an IG! LOL), and you dispensed information when I asked for it on care, and so much more!
You kept me updated on Fin with the most incredible baby photos! I literally thought I knew this dog before he arrived! He was loved so much before he even got here, because you brought him to LIFE in the photos you sent me - almost weekly! Here are a few of my favorite "baby" photos of him that you sent me!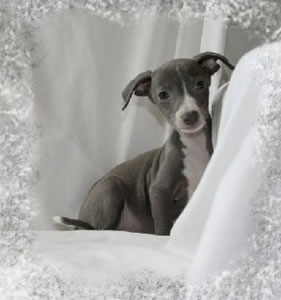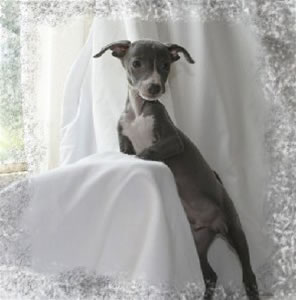 I cannot thank you enough for blessing ME with the most awesome IG in the world! Besides his unbelievable "Bigger than Life" personality .. LOL .. he's so conformationally correct in his legs. He tracks straight both front and back. All four feet point straight ahead! He's not base narrow front or back, and he's not too wide either. He floats across the grass, or the pavement on the driveway. He has suspension, as well as fluidity. To me, he's awesome in that conformation respect. I love his expressive head, his kind eye, and over all substance of bone, as that is very strong, and not weak, and he's what I'd call a `sturdy' IG. Oh sure I might like to have him a teense longer in the neck, or maybe with a hairs breath more arch to his topline, but like I said before, I loved this breed, and I did not have major designs on showing in hand, although the agility `bug' is in the back of my brain for sure! Agility would be great fun for me and Fin, as he shows he has athletic ability, stamina, and he's solid as a rock! I think with his intelligence, and good natured temperament, that he'd make an awesome agility competitor one day. I'll keep you updated on that!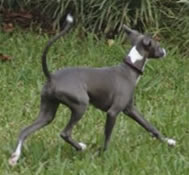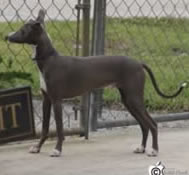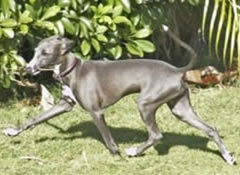 SO! IN ENTERS THIS IG PUPPY, .. aptly named "FIN"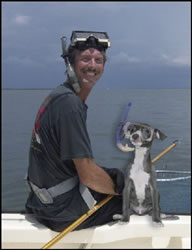 (as I wanted a name with a 'nautical' connection) mainly because my darling husband Keith, is big time into water sports .. diving, snorkeling, fishing, etc. (as you can see, I love playing with my Fin Pics!) .. So, I kinda figured that if the pets were named according to Keith's sports .. then when they did something "naughty" .. well perhaps the blow would be less of an imposition to Keith when he went looking for his `other shoe" ...
OH I could go on and on about how much joy you have brought into my life with Fin! He came to me at a time in my life when everything seemed to be falling down around me. The loss of my beloved Mother-in-law, then my 15 yr old dog Snorkel had died, then my 22 yr old Kitty passed away, and the last straw - all within three months... was when my Father was diagnosed with terminal cancer and passed away as well. Fin has in more ways than one ... been a little savior to me. I can tell you right now, I'd be in a huge state of depression. I guess I should thank you for saving me from spending mega bucks on Prozac! LOL
I think I have more photos of this darling dog, than I have of anything else (LOL) .. from family to horses! I'm overwhelming anyone who's email address I have! LOL .. Guess they aren't as excited over the "hourly" FIN updates as I am! ROFLMAO! Fin has been and done everything from advertising Coca Cola, to dressing up like ELVIS .. to displaying his prowess as the boxer SUGAR RAY LEONARD! EVEN been on an imaginary vacation with us and snorkeling with KEITH! LOL (I know I'm crazy, but while waiting for him to arrive .. I had to occupy my time playing with the photos you sent me! I felt like I KNEW HIM even before he got here! LOL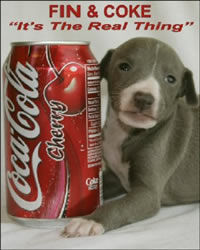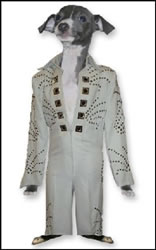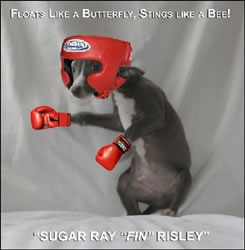 So -- Here are some of my favorite pics of my Hollywood Heart-throb named "FIN!", ..who's already won the GOLDEN GLOBE .. AND THE OSCAR in my book!
He's growing up so fast, and really maturing into one of the most expressive headed dogs I've ever owned! I'm constantly approached by folks who see him, and they are mesmerized (like me) with his gorgeous look! Probably why I have focused so many of my photos of him on that head!
Here are some of my most favorites .. his eys just endear me to him like no other!

Fin .. in his "reflective" mood .. (either that or he's spotted a bird!)

Yes .. he does have a body too! LOL
And no stick or "star fruit" (carumbola) is too big for his giant persona!


Fin LOVES to chase the hose!


Here we are singing a tune at the top of our lungs! ROFL

I just love him!

For more photos of Fin, visit his Photo Gallery on IG Whispers!
Be sure to check out Fin's Blog in IGW too!
I know that's a gazillion pics!! But what can I say! I'll leave it up to you to choose what you have room to use, as I would love to have my testimonial on your page, as I'd highly recommend your dogs to anyone who asks me!
Much Love to you, Richard, and your Family (both two legged and four!) - and thank you, so much ... for being the wonderful person you are, and keep sharing your dogs with others, for you have filled so many hearts with joy and laughter, and we sure need more of that in this world!
Love,
Shaana & Fin

"The great pleasure of a dog is that you make a fool of yourself with him and not only will he not scold you, he will make a fool of himself too."
-Samuel Butler